Costs
But how much does it cost to buy a house and what are the costs to be faced?
In total, to buy a house, the buyer has to pay 4 types of costs:
Cost of the house (indicated in the Purchase Offer)
Taxes
Below is a simple overview: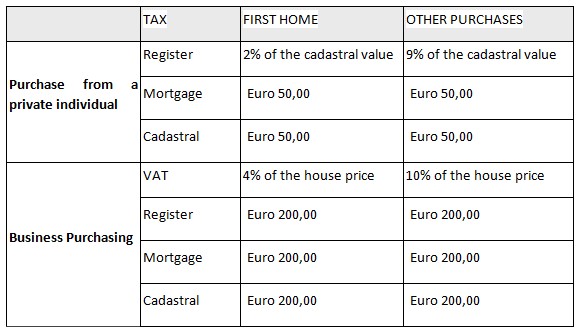 However, as soon as you have identified the property that interests you, contact us so that we can get you a quote from the notary, including all taxes payable.
3. Notary's fees
4. Real estate agency commission
The latter 2 expenses are quite variable and depend both on the purchase value of the property and on the rates applied by individual professionals.
To get a rough idea, we could say that the cost of the notary can be around € 3,000 on average, while the commission of the real estate agency is generally equal to 3% of the purchase price of the property, is required from both the buyer and the seller and may increase with the decrease in the price of the property. However, we repeat that these are only indicative values and that you will need to know in detail before buying the property.